Powered by
Instructables
.
<
Step 1: Test Tube Spice Rack
Here's a test tube spice rack that I made to hold all of my spices.  I tried to improve upon previous test tube spice racks that I've seen by using a nice looking piece of bamboo plywood and by using oversized O rings to "float" the tubes in the rack and eliminate the base plate.  Also, my kitchen is short on counter space, so moving the spices out of the cupboard and onto the wall was a bonus.  I've got a lot of spices, so I made two of these racks, but the design would work well with just one, or as many as you might need to hold all of your spices. Sorry I can't publish this as a full step by step Instructable since this was one of the few builds I've done where I didn't take pictures along the way, but I'll do my best to explain how I made it in the text below.
Materials:
plywood bamboo strip approx. 2" x 16"
glass 25mm x 150mm test tubes from Drillspot
size 10 cork stoppers to match test tubes from Mcmaster
22mm x 4mm rubber O-rings to match test tubes from Mcmaster
assorted spices
skinny measuring spoons from Lee Valley
screw hook to hold measuring spoons
mini L brackets
hanging hardware for plaster or drywall walls
Tools:
saw to cut wood
drill or drill press (better) to drill holes in wood and hang rack
1 1/8" Forstner bit to make clean holes that are slightly larger than test tube diameter, but smaller than O-ring.
Construction:
Cut appropriately sized strips of wood for your test tube rack.  On a drill press, use a 1 1/8" forstner bit to create evenly spaced holes on the rack.  Try to drill as straight as possible if you're using a hand drill.  Slip the O-rings onto the test tubes, fill with spices, and insert cork stopper into the top. 
Installation:
Hang test tube rack onto the wall with small steel L brackets using appropriate anchors or hardware for your specific wall type.
License: Attribution-NonCommercial-ShareAlike.
Original content
provided by: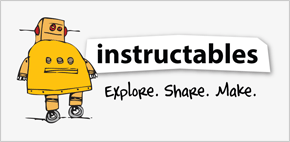 1div id="in-node-search">
Search
C