Powered by
Instructables
.
<
Step 1: DIY Solar Power Vintage Arrow Marquee!
Do-it-yourself Marquee sign!
Nothing quite as awesome as a vintage style arrow in comic book red!

This was a super fun project to do with my
11 year old scout in just a few hours!
Step 2: Gather the inspiration!
I have wanted a marquee sign for a long time...but they are very pricey!
I found one I liked for over $200.

I knew I could make one myself...but didn't want a sign I had to plug in...
or find wall space for...or deal with cords and plugs.

Then I discovered Solar Power lights!  Yay!
The perfect outdoor feature!

So that was my only cost in this project, about $20.

Here's what you'll need:
You'll need plywood...in your desired shape and size
String of lights (you could even use Christmas lights or any string lights)
Paint

And tools...table saw/jigsaw and drill with bits
Step 3: Make and Trace on Pattern!
Start with a scrap piece of plywood (we found ours on the street...love free)
It was about a foot and a half tall and 4 feet wide...

Make a pattern:
I used some kraft paper and cut it to fit the board...

I folded it in half and then sketched out my pattern.
We went with a much more rounded arrow shape...almost comical.

I cut it while it was folded so it would be symmetrical!

Then traced the arrow pattern onto the board with a pencil.
Step 4: Get Cutting!
Then my son used the dremel and we began cutting it out...

The dremel wasn't cutting it well enough...or straight enough
so we switched and cut it with the tablesaw!

(note: jigsaw is now on my list)

Then we sanded all the rough edges...
Step 5: Fill it with holes!
Next we laid it out and marked where we wanted each light to go.
I tried to measure them...and then just kind of eyeballed it!  :)

Got a drill bit large enough to fit the green part, but not the bulb cover.

And drilled 29 holes!
(yes, one of our lights is hidden...so the solar panel would sit above the sign)
Sanded it all smooth and set it out to spray paint!
Step 6: Add Pizazz!
I spray painted it Comic Book RED of course!
After it dried...we roughed up the edges a bit...
and went over them with stain to darken the wood.
Step 7: Now for the Lights!
Next, take all the bulb covers off the lights and staple the
lights on through the backside of the wood.

Then attached the bulb coverings--I love that they are plastic!

Screwed on some screw eyes and wire for hanging across the middle of the back.
Step 8: Hang and Admire!
And, then, if I had a darling front porch with a bench and cushions...
this would be the perfect little addition!
But our porch is small and ugly, so it's going on the back fence!
With the solar panel exposed so we can get some sun!

It works great at as a photo prop too!
You could spice it up with a big "Eat at Joe's" or add some flashing around the borders...
but I'd say Perfect-o for only a few hours in the making!
And a pretty good 11 year old scout project!

Hope you like it! 
Please vote for me in the Weekend Project Contest and the I Could Make That Contest!  :)

Check out my blog DOODLECRAFT for more daily awesomeness! 
License: Attribution-NonCommercial-ShareAlike.
Original content
provided by: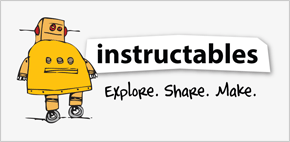 1div id="in-node-search">
Search
C